FISHING PIERS
The same monocoque design utilized for our floating docks is also incorporated into our fishing piers, which offers unparalleled stability despite the frequent and constantly moving foot traffic that can be expected with this type of structure. Given that fishing piers are specifically intended for heavy pedestrian use, we can easily achieve considerably greater live load capacity without any increase in draft. Designed to be barrier-free and 100% handicap accessible, we recommend a minimum width of 8′ for the fishing platform portion, which can grow as required for the specific application.
PRODUCT FEATURES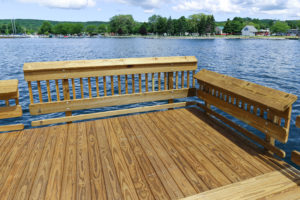 Universal fishing railing typically encapsulates a floating fishing pier, offering both standard and accessible heights with integrated rod holders. Baluster or three-tier railing may be used in conjunction with universal fishing railing, or curb rail installed along shore-facing areas where railing may not be desired.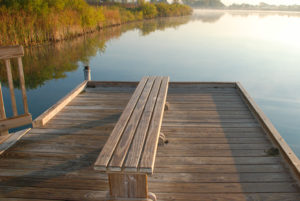 Whether angled back or flat-top, benches are a common inclusion on fishing piers given their wide footprint and heavy foot-traffic. Dimensions vary from project to project and can be further customized to fit specific spaces. All benches are constructed with a treated lumber frame and seat / back that matches decking material to compliment the overall aesthetic.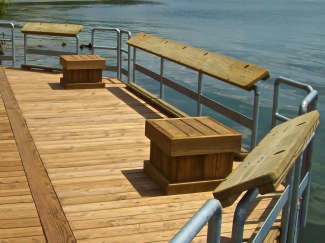 Equipment stands provide a staging area for tackle boxes and various fishing gear at a convenient height. Each unit may either be free-standing or fastened to the deck surface at a pre-determined location.